Ike Galanoudis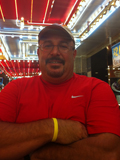 Project Development Team
Ike's introduction to the sign business came in the late 1970's when he began pinstriping and hand-lettering vintage hot rods as a hobby – hand crafting paper window signs, poster boards and show cards across Long Island and along the Jersey Shore. Having worked alongside some notable and legendary sign artists in the industry, Ike has harnessed what he learned and developed his own unparalleled style of design, layout, typesetting and color balance.
A graduate of Island Drafting and Technical Institute (Amityville, NY), Ike is currently our veteran computer graphic design artist here at North Shore with an extensive working knowledge of industry related design software and technology along with a formal background in architectural drafting and computer aided design. At North Shore Neon since 1990 (when we actually used pencils to draw), Ike's primary responsibilities at North Shore range anywhere from the creation of conceptual design drawings, permit sketches, the production of full scale shop patterns for sign manufacturing to collecting field dimension data while performing on-site property and photographic site surveys.  As a noteworthy point of interest, Ike is credited as having personally lettered each and every piece of equipment in North Shore's large and growing, high profile fleet of service vehicles and cranes.
Married to his best friend for twenty-six years with three fantastic children, Ike spends much of his spare time coaching baseball and softball – developing the youth of our community to attain goals at the next level – and is a current member of Farmingdale Baseball League's Executive Committee. Ike's hobbies include collecting obsolete and vintage casino chips from around the world and is a member of the CC&GTCC (Casino Chip & Gaming Token Collectors Club).