Patrick Dooley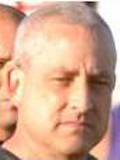 Project Management Team
Upon completion of service in the US Navy, Patrick started in the sign industry as an electricians apprentice and over the past 23+ years has worked in every aspect of the industry. From manufacturing, service, installation, operations, project management, business development and all of the core competencies that go along with each of these aspects of our business. He credits the many mentors and "old timers" that took the time to teach him everything from tube bending and welding to crane operation and hopes to share this wealth of knowledge with the next generation.
At North Shore Neon Patrick has been tasked with the collateral responsibility of integrating today's latest technologies in software, marketing, and social media as well as manpower and equipment allocation. While North Shore is part of the landscape of Times Square and has been since 1954, it is our attempt to bring greater attention to our capabilities within the greater metropolitan area. These include having not only the largest fleet of cranes and equipment in the New York area but also a staff of some of the most experienced and respected Project and Senior Project Managers in the industry.
Married for 30 great years with four amazing daughters, veteran, cancer survivor, volunteer at Memorial Sloan Kettering Cancer Center, enjoys reading, taking advantage of everything New York has to offer, extreme sports and participates in Triathlons as well as 5 and 10k's.